Getting to know each other
We know meeting someone for the first time can be intimidating, and going to a new church for the first time can be nerve-racking. We want to help make your first experience at Cornerstone a great one!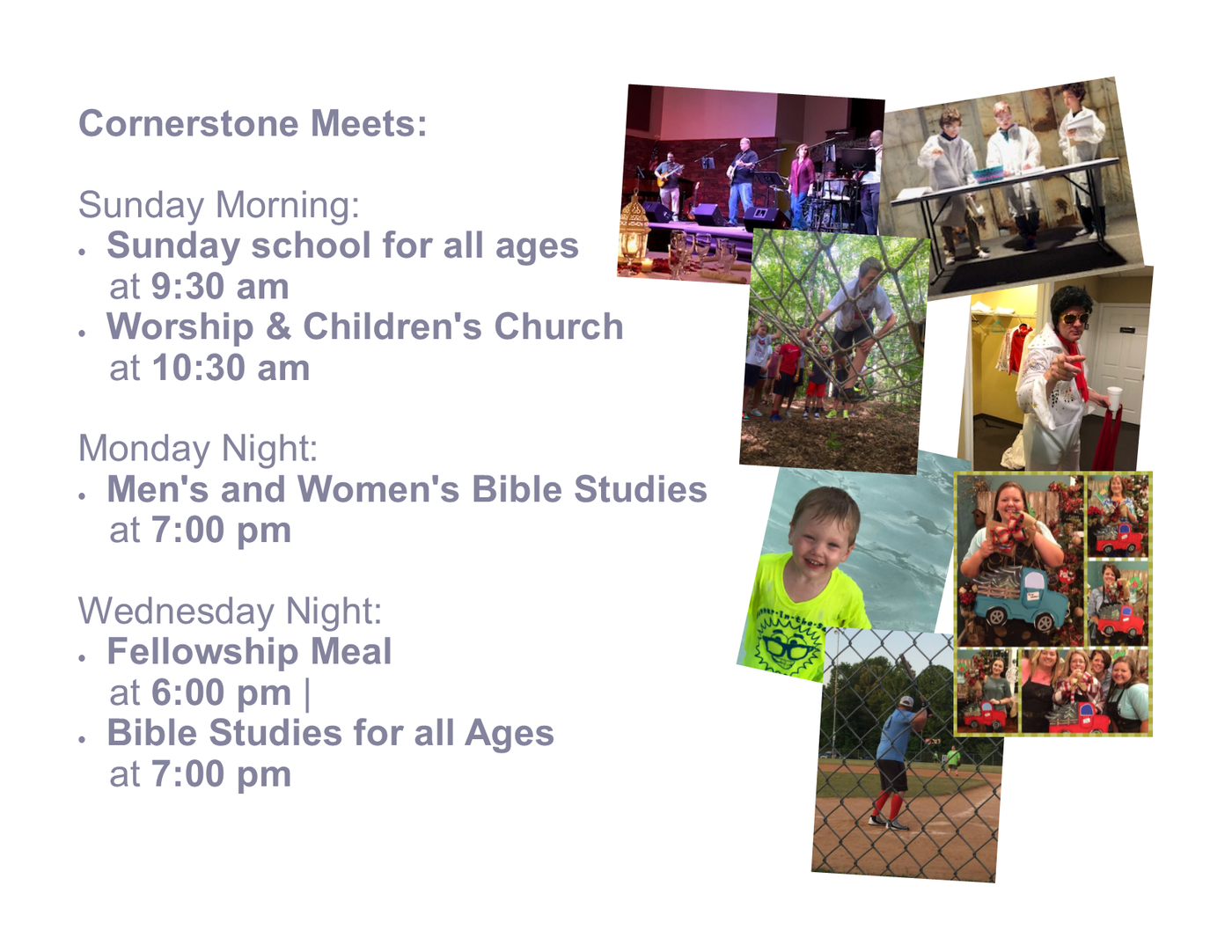 Service Times
Location and Directions
Cornerstone Christian Church is located at 236 Etowah River Road, Dawsonville GA 30534. For directions, clicking here.

What can I expect?
How long is a Cornerstone service?
In total, a Cornerstone service is about 70 minutes in length. Services begin with the Cornerstone band leading the church in music - song lyrics are projected onto two screens so you can sing along and engage with worship however you feel most comfortable.
Cornerstone takes communion or the Lord's supper each week. Our men will pass two trays, one with small pieces of bread and the other with small cups of juice. Before passing the communion, there will be a short meditation followed by prayer. After the prayer, communion will be served by row to each person who would like to participate. When the trays are passed, you are free to take as you please or pass them along to the next person. Some people hold the emblems and spend a few moments in silent prayer and then place the empty communion cup in the holder in the seat in front of them.
Cornerstone does collect an offering each week, but we do not pass offering plates. We have offering boxes near the entrance for those who would like to give. Please understand that we do not expect or ask our visitors to give.
After the music, communion & offering portion of service is complete, one of our pastors will come out to share an encouraging and hope-filled message about Jesus Christ. At the completion of the sermon, there will be an invitation for anybody who would like to make a decision for Christ to come forward or meet one of our leaders in the back of the worship center. If you feel lead to make a decision for Christ, know that those there to meet with you will spend time in prayer with you and help point you to the next step in your spiritual journey.
What's the culture like at Cornerstone Church?
Sunday's at Cornerstone are exciting, casual, and relaxed. Come as you are and expect to feel welcomed as our guest.
What about my kids?
We believe that kids should have a blast at church every single week - and at Cornerstone "Roots," we make this a priority. The other thing we make a priority is your children's safety. Because of that, we have a detailed check-in process for our Roots program the first time that you visit. You'll want to leave yourself an extra ten minutes to get signed in for the "Roots" experience, or you may pre-register by clicking the link below. "Roots" is offered for kids ages infant through Grade 5 beginning at 9:30 am & 10:30 am. For more details on how to check your child in, click the link below.

Let us know you're coming
Would you like VIP treatment on your first visit? If so, fill out the form below, and we'll make sure that someone is present to greet you and show you around. If you are not interested in someone meeting you, we understand, just check the appropriate box below.